Stand Out from the Crowd. Be Cool in the Shade.
Impress your guests and visitors with innovative shade structures from Creative Shade Solutions. Trust our designers and architects to create a one-of-a-kind outdoor experience, making your location more attractive and comfortable. Discover beauty in design and performance.
There's no limit to your imagination. Style, shape, size and color are fashioned to create a customized solution that perfectly reflects your design concept, complements your property and meets your needs and budget. We produce a 3D rendering so you may visualize your custom shade solution at your location before we build it.
Whether curved or bowed, we have the skills, equipment and certified technicians to fabricate shade structures of any complexity at our own factory in Florida. No detail will be missed so that you are completely satisfied with the result.
From restaurants and golf clubs to office buildings and city parks, custom shade structures combine beauty and function and make any outdoor space stand out from the competition.
YOU CAN FIND OUR CUSTOM SHADE STRUCTURES AT:
Restaurant patios
Outdoor food courts
Pool decks
Building entryways
Courtyards at resorts, hospitals and office buildings
Sports complexes
Amphitheaters
Playgrounds
Many more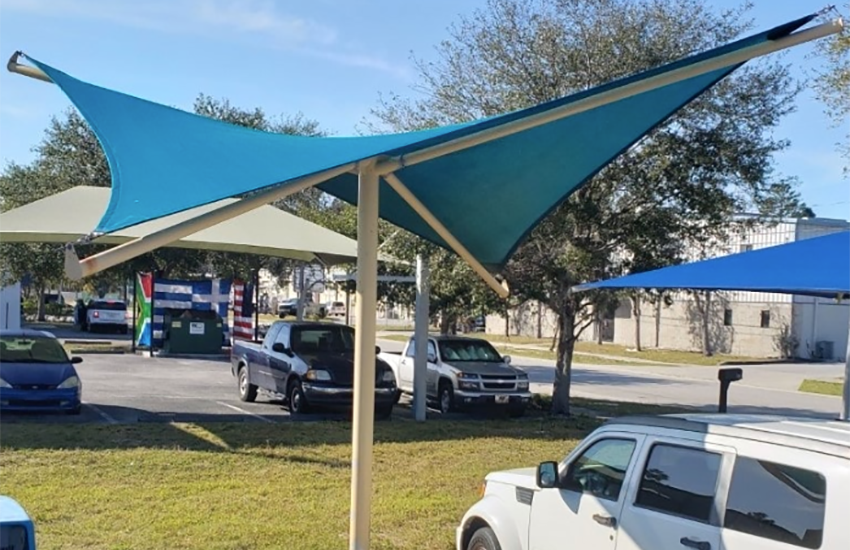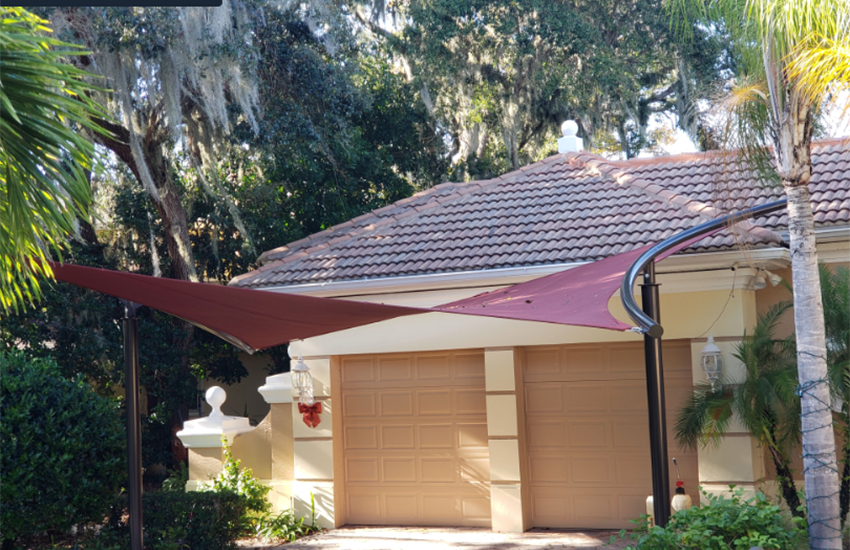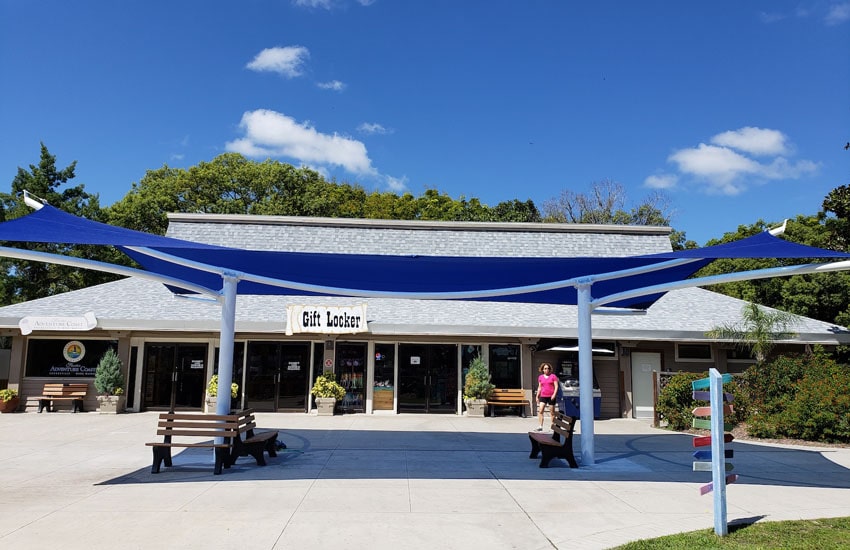 Anybody standing under our shade structures will enjoy 15-20-degree cooler temperatures – all because of our breathable shade fabrics. At Creative Shade Solutions, we only use durable commercial-grade sail cloth, which can block up to 98.8% of UV rays and withstand wind gusts up to 120 mph. Choose from a wide selection of flame-resistant, waterproof and standard sail fabrics in a variety of beautiful colors.
Ensuring the highest quality and complete customer satisfaction is our priority. That's why we design and manufacture all components in our 20,000 sq.ft Florida facility, offering great workmanship, warranty and a guarantee of full Florida code compliance for installation of shade structures and sails so as to ensure maximum lifespan.
And, keep in mind that you'll enjoy exceptional cost savings when you choose our USA-made shade structures versus traditional construction options.
What Our Customers Are Raving About
"We have been working with Creative Shade Solutions and Werner for many years on various projects which exceed well over 1 million in revenue. Werner's product knowledge, experience, and professionalism are the best in the industry. If an issue arises, he is prompt in responding and has an immediate solution at hand. We would highly recommend Creative Shade Solutions quality products and working with Werner and his staff on any commercial shade project."
"Creative Shade has installed around 20 shades for us in the past few years for my playground projects. Could not be happier with them. From sales to install and service they are top notch."
"They completed 2 shade structures in our church playground. They did the job in one day, on the day they said they would. The price was way less then the other quotes we got. It looks awesome. The Moms love it."
"Creative Shade Solutions and Werner are the absolute BEST! We had a shade structure installed at a school and it turned out amazing! We already have another estimate for another school. I highly recommend Creative Shade Solutions!"
"Our community had two cantilever shades installed, they are beautiful. The guys that installed them were great, I can't say enough about them."
"I had the pleasure of working with Werner and his team as the PTSO liaison for our school's shade structure project. Work was completed on time, shade looks amazing and the pricing was excellent. Do not hesitate to contact them!"
"I have 3 sails now from Creative Shade Solutions - outstanding quality, good pricing and quick turn around. Plus if you need installed their guy Dave is very knowledgeable, prompt, courteous and reasonably priced."
"Creative Shade Solution its a great company to work with. I got my second sail, great customer service, great installation. Happy Customer."
Partner with Us For Turn-Key Shade Solutions
Bring your ideas to Creative Shade Solutions and we'll take care of the rest.