Architects and Design Professionals
One Partner to Get the Job Done Right
As a design professional, you understand – more than just about anyone else – that a partnership with the right vendor is the key to completing projects on time, within budget and in line with the client's goals and expectations. Excellent end products hinge on the mastery of the contractors you hire.
With 18+ years of experience in the shade construction industry, we have the knowledge, manpower and the facilities to engineer, fabricate and install commercial shade structures of any style and complexity.
Your vision should drive the end product, so we work closely with you to make sure your designs come to life in just the way you envision. Whether you want to shade a large playground to protect your smallest customers or make a bold statement with custom shade kites at a country club, the possibilities are endless with our variety of shapes, sizes, models and shade fabric colors.
Turnkey solution – we handle the process from conceptual design through installation without the middleman or sub-contractors.
Engineering and permitting – we are experts developing structurally sound, long-lasting shade structures in compliance with Florida, Georgia and South Carolina codes. We also pull all permits for you.
Custom work – we can fabricate shades of any complexity from elegant cantilevers to breathtaking architectural shades.
Short lead time – we do it all from design to fabrication and installation, so you get the project done faster.
Quality control and best warranty – we implement strict quality and safety standards and offer a comprehensive warranty on our products, parts and workmanship.
Excellence in design – we carry your unique design vision forward through innovative solutions, quality materials and superior engineering capabilities, so you deliver an exceptional experience for every client every time.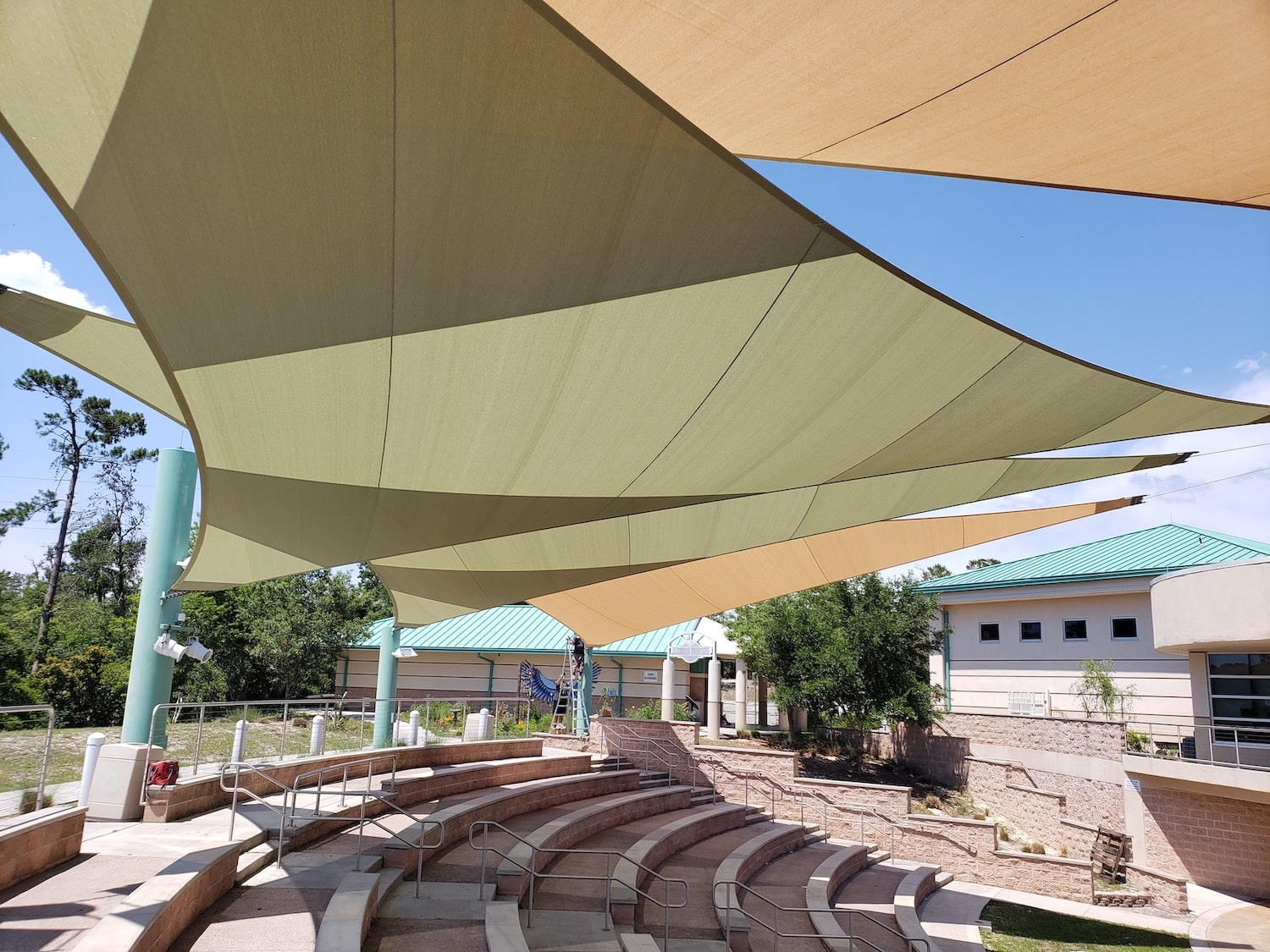 Types of Shade Structures
Sails and multi-level shade sails
Hip roof shade structures
Cantilevered shade structures
Mega span shade structures
Hexagon/octagon shade structures
Shade kites
T-style shade structures
Shade umbrellas
Playset shades
Custom-built shade structures
Schools and playgrounds
Daycares and churches
Parks and recreation
Sports complexes
Amusement parks
Resorts and hospitality
HOA, apartments, condos
Waterparks and pools
Car washes
Vehicle parking and dealerships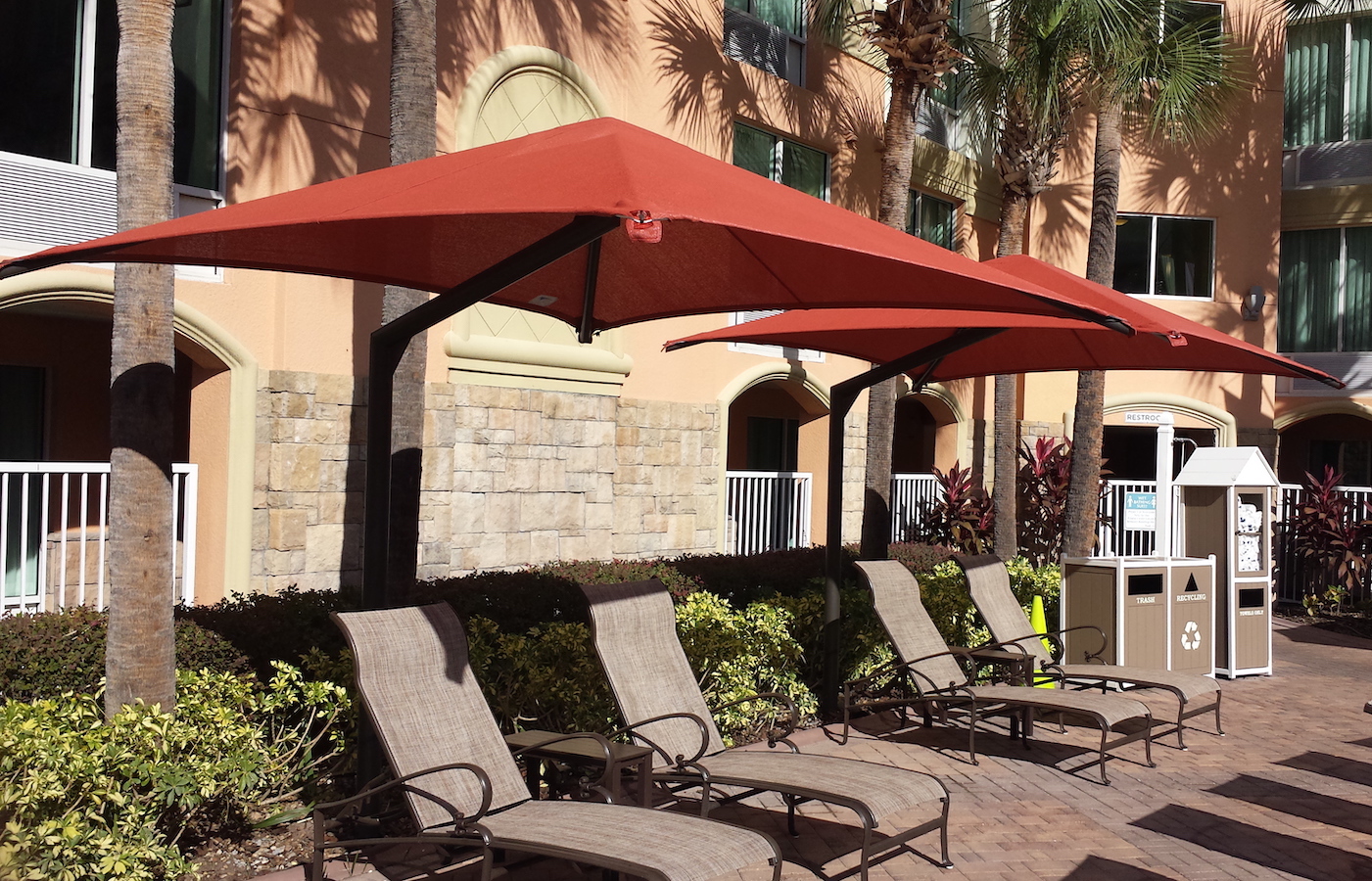 What Our Customers Are Raving About
"We have been working with Creative Shade Solutions and Werner for many years on various projects which exceed well over 1 million in revenue. Werner's product knowledge, experience, and professionalism are the best in the industry. If an issue arises, he is prompt in responding and has an immediate solution at hand. We would highly recommend Creative Shade Solutions quality products and working with Werner and his staff on any commercial shade project."
"Creative Shade has installed around 20 shades for us in the past few years for my playground projects. Could not be happier with them. From sales to install and service they are top notch."
"They completed 2 shade structures in our church playground. They did the job in one day, on the day they said they would. The price was way less then the other quotes we got. It looks awesome. The Moms love it."
"Creative Shade Solutions and Werner are the absolute BEST! We had a shade structure installed at a school and it turned out amazing! We already have another estimate for another school. I highly recommend Creative Shade Solutions!"
"Our community had two cantilever shades installed, they are beautiful. The guys that installed them were great, I can't say enough about them."
"I had the pleasure of working with Werner and his team as the PTSO liaison for our school's shade structure project. Work was completed on time, shade looks amazing and the pricing was excellent. Do not hesitate to contact them!"
"I have 3 sails now from Creative Shade Solutions - outstanding quality, good pricing and quick turn around. Plus if you need installed their guy Dave is very knowledgeable, prompt, courteous and reasonably priced."
"Creative Shade Solution its a great company to work with. I got my second sail, great customer service, great installation. Happy Customer."
Let's Work Together To Get It Done…Fast and Right
Bring your ideas to Creative Shade Solutions and we'll take care of the rest.