Warranty & Specifications
We put our reputation on the line with every project. At Creative Shade Solutions, our commitment to the highest quality and complete customer satisfaction sets us apart from our competition. That's why we design and manufacture all components in our 20,000 sq. ft. Florida facility.
We offer superior workmanship, a comprehensive warranty and a guarantee of full Florida, Georgia and South Carolina code compliance for installation of shade structures and shade sails. Every detail is covered to ensure maximum lifespan.
Complete Warranty
Creative Shade Solutions guarantees that the shade structures and all materials will meet the level of quality and specifications as agreed upon with the customer at the start of the project. We also guarantee our products to be free of defects in workmanship.
Limited 20-year warranty on all steel columns and frames.
Limited 10-year warranty on all shade fabric and Tenara thread.
Limited 1-year warranty on powder coating, hardware and workmanship not covered by any of the above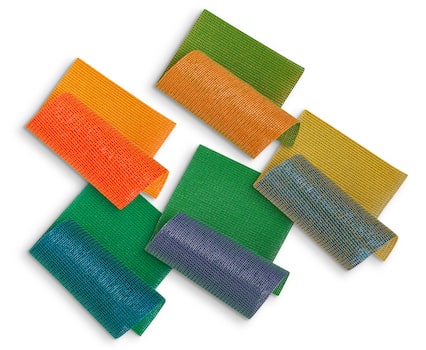 Shade Fabric Specification
We use several types of commercial-grade high-density polyethylene (HDPE) shade fabric and super durable TENARA® thread to fabricate our shade sails. The HDPE shade cloth is made using monofilament and tape filler to ensure the material will not unravel if cut which makes this fabric easy to work with minimal waste.
All shade fabric meets fire resistance tests as follows:
California State Fire Marshall
NFPA 701-99 (Test Method 2), ASTM E-84
Commercial 95® 340
Engineered in Australia, Commercial 95® 340 is made from high-quality UV-stabilized HDPE. It is the first architectural shade cloth in the world to be granted Oeko-Tex® and Greenguard® certifications.
Fabric Properties:
UV block range 91.1% to 95.5% with 10-year UV degradation warranty
Temperature range –22°F to 158°F
Fray and tear resistant
Breathable
Rot resistant
Won't absorb moisture
Heat set to eliminate shrinking post installation
Stretch properties:

Tear Tensile: WARP 278 lbs/ft and WEFT 340
Burst Tests: up to 828 lbs/ft
Fabric Weight Average: 1.02 to 1.07 oz/sq ft
Fabric Mass Average: 9.6 oz/yd (325 gsm)

Minimum fading after 10 years for all colors except red and yellow
Minimum fading after 5 years for red and yellow
People and environment-friendly
100% free of lead and phthalate
100% recyclable
12-year life expectancy
Commercial DualShade 350
Our newest architectural shade fabric, Commercial DualShade 350, is made using a patent-pending knit pattern and features a single color on one side and a complementary color on the opposite side.
The perfect shade fabric for the most creative minds, this material will enhance the look of any outdoor space. Whether you're creating a shade structure for a school, playground, country club, city park or sports complex, there is a DualShade 350 color combination to match any environment with your unique design.
Commercial Heavy 430
Commercial Heavy 430 shade fabric is the best choice for large commercial shade structures or Mega Spans. Its unique knit pattern and properties ensure that your shade structure will retain its shape over time. The shade covering will not sag, reducing the need for re-tensioning. Other fabrics may lose their shape and tension when applied to large scale structures.
Commercial Heavy 430 comes in 13 colors, offers the highest UV cover rating and is warranted for 15-years. If you are looking to shade a large car park or sports complex, you will not find a better architectural fabric that can retain physical properties, design shape and structural reliability as well as Commercial Heavy 430
TANARA® Thread
TANARA® premium sewing thread is super durable and has many properties that make it ideal for fabrication of shade sails, awning covers, marine and other outdoor applications.
Thread properties:
Non-fading
Non-staining
UV-radiation resistant
Chemicals resistant (won't be affected during maintenance)
Extreme weather resistant
Saltwater resistant
10-year warranty
Sewing
All corners are reinforced to distribute the load for 90 mph winds.
The sleeves for the cables are double lock stitched.
Structure and Components Specification
Steel Tubing and Component
All shade structures are fully engineered, and all steel components are manufactured using these engineering specifications:
All steel components are galvanized steel with powder coating.
All frames are structural steel tubing up to 5", 7 gauge and galvanized per Allied Steel FLO-COAT specifications.
All posts are schedule 40 black pipe, sandblasted and primed.
All other steel complies with ASTM A-36, HSS ASTM A-53 grade C, unless otherwise noted.
Powder Coating and Priming
All non-galvanized steel is sanded and primed prior to powder coating.
All non-galvanized steel is coated with rust inhibiting primer prior to applying the powder coat.
Welds are primed with rust inhibiting primer prior to applying the powder coat.
Primer is Marine Grade Cardinal Industrial Finishes Corp E396-GR1372 epoxy powder coating semi-gloss smooth zinc rich primer.
All steel parts are coated for rust protection and finished with a minimum 3.5 mil thick UV-inhibited weather resistant powder coating.
Powder used in the powder-coat process:
Specific Gravity: 1.68+/-0.05
Theoretical Coverage: 114+/-4ft 2lb/mil
Mass Loss During Cure: <1%
Powder-coating shall meet the following tests:
ASTM Gloss at 60°: 85-95
ASTM D2454-91 Over-Bake Resistance Time: 200%
ASTM B117-95 | Salt Spray | 1,000 Hours
Note : When powder coating over hot-dipped galvanized steel, smoothness might be effected. Small bubbles might appear with out-gassing when using galvanized steel
Welding
All shop welds comply with American Welding Society Specifications.
Welding procedures comply with the AWS D1.1-AWS Structural Welding Code-Steel.
Shop connections are welded unless noted otherwise.
Field connections are indicated on the drawings.
Field welded connections are not acceptable.
All fillet welds are a min ¼" unless otherwise noted.
All steel components are welded closed to prevent rust.
On-site welding not acceptable.
Hardware ( Shackles / Clamps / Cable)
Bolt and fastening hardware are according to engineering specifications.
All bolts are SAE-J429 (Grade 8) or ASTM A325 (Grade BD). All nuts comply with ASTM F-594.
Stainless Steel hardware complies with ASTM A-304.
Cable from 3/16" to 3/8″ is galvanized cable, 7×19 strand with a breaking strength of 7,000 lbs.
5/16" cable has a breaking strength of 9,800 lbs.
All other Hardware are hot dipped galvanized or stainless steel
Concrete
Concrete complies with American Concrete Building Code ACI 318 and detailed in plans as follows:
28 Days Strength: F'c = 2500 psi
Aggregate: HR
Slump: 3-5
Portland C-150
Aggregate ASTM C-33
Steel rebar is ASTM A-615 grade 60.
Reinforcing steel shall be detailed on plans.
Footings
All anchor bolts are set in new concrete according to specifications ASTM A-307, ASTM F-1554.
All anchor bolts are hot-dipped galvanized as per engineering specifications.
All footings fabricated in accordance with engineered specifications and drawings.
Most of out footing will be direct embedment – strongest and the most effective installation method fully engineered and time tested.
Partner with Us For Turn-Key Shade Solutions
Bring your ideas to Creative Shade Solutions and we'll take care of the rest.