Watch Your Ideas Take Shape
IF YOU CAN IMAGINE IT, WE CAN BUILD IT
With 18+ years of expertise and hundreds of happy customers, Creative Shade Solutions offers turn-key commercial shade solutions to architects, landscape designers, commercial contractors and builders. Bring your ideas to us and we'll help you create a beautiful outdoor space to protect your community, clients and equipment from the harmful effects of UV rays, high temperatures and inclement weather.
At Creative Shade Solutions, we look forward to serving each customer and embrace the challenges that may be presented by the landscape, property type, style or budget. From school playgrounds and park benches to amphitheaters and amusement parks, we design, manufacture and install commercial shade structures in a variety of shapes, models, sizes and colors.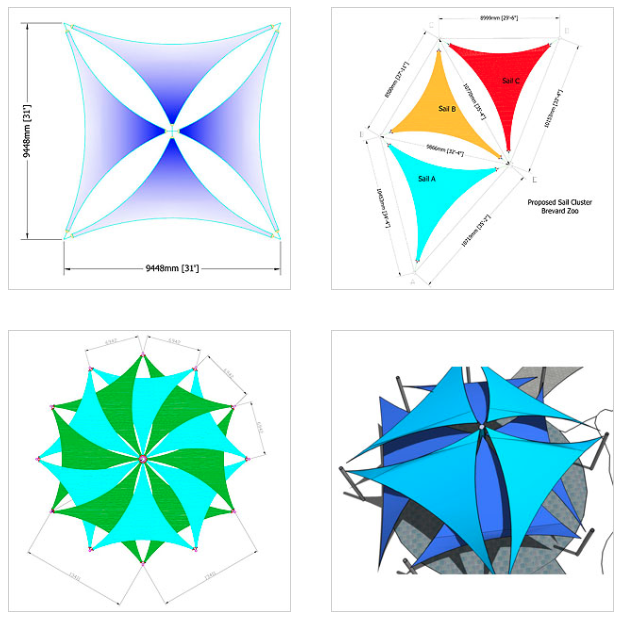 See It Before We Build It
A shade structure is a permanent feature that will serve your customers and visitors for years to come. We understand that it takes a big commitment and is a large investment. Many decisions must be made, such as post configurations, shade models and colors. Our experienced designers will help you decide which product best suits your space and needs based on the property size, installation constraints and sun position during the hottest months of the year.
With the use of sophisticated CAD software, we will produce a 3D rendering of the shade structure that will be in-stalled on your property. Select the size, shape and fabric colors to create a unique design that fits your specific needs and style. From traditional hip roof structures to dreamy shade sails, we will guide you through the design process to make sure that the final product is functional, inviting and aesthetically complimenting for your property.
What Our Customers Are Raving About
"We have been working with Creative Shade Solutions and Werner for many years on various projects which exceed well over 1 million in revenue. Werner's product knowledge, experience, and professionalism are the best in the industry. If an issue arises, he is prompt in responding and has an immediate solution at hand. We would highly recommend Creative Shade Solutions quality products and working with Werner and his staff on any commercial shade project."
"Creative Shade has installed around 20 shades for us in the past few years for my playground projects. Could not be happier with them. From sales to install and service they are top notch."
"They completed 2 shade structures in our church playground. They did the job in one day, on the day they said they would. The price was way less then the other quotes we got. It looks awesome. The Moms love it."
"Creative Shade Solutions and Werner are the absolute BEST! We had a shade structure installed at a school and it turned out amazing! We already have another estimate for another school. I highly recommend Creative Shade Solutions!"
"Our community had two cantilever shades installed, they are beautiful. The guys that installed them were great, I can't say enough about them."
"I had the pleasure of working with Werner and his team as the PTSO liaison for our school's shade structure project. Work was completed on time, shade looks amazing and the pricing was excellent. Do not hesitate to contact them!"
"I have 3 sails now from Creative Shade Solutions - outstanding quality, good pricing and quick turn around. Plus if you need installed their guy Dave is very knowledgeable, prompt, courteous and reasonably priced."
"Creative Shade Solution its a great company to work with. I got my second sail, great customer service, great installation. Happy Customer."
Partner with Us For Turn-Key Shade Solutions
Bring your ideas to Creative Shade Solutions and we'll take care of the rest.