Creating the elegance and cleverness of a sail shade.
In contrast to a sail on a boat, a shade sail is attached to a roof or other outside structure to create a canopy. Shade sails provide shelter from the sun on sweltering summer days when they are tipped or twisted overhead.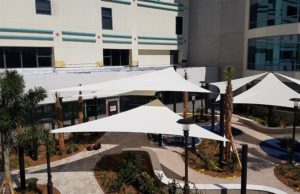 These flexible coverings are made of high-density polyethylene fabric that is UV-resistant and is available in a variety of colors, designs, and sizes. Continue reading for advice on picking the ideal shade sail for an outdoor area as well as some of the most popular choices now on the market.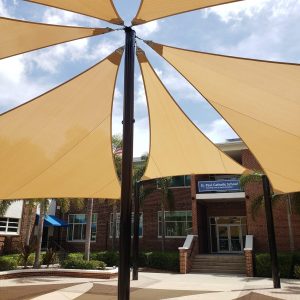 Triangle shade sails are three-sided coverings that can be fastened to wall brackets or columns. They can be set up to produce lovely architectural designs utilizing a single sail or many sails with various attachment altitudes. Even though triangular shade sails have fewer mounting points, they can nevertheless provide interesting aesthetic effects, especially if the colors are contrasted.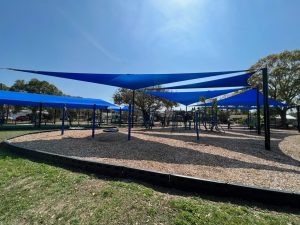 Our three-point shade sail has several benefits for your location, including:
Shade enhances the appeal of your company in hot, sunny weather.
To suit your preferences and the environment, you can choose from a number of colors.

Sizing flexibility enables your business to adapt to shifting consumer demands and market situations.
Product longevity is increased by water and UV resistance, which also helps to maintain the attractive appearance of the shade.
The low-maintenance design saves time and frees up your team to concentrate on other crucial tasks.
Our knowledgeable team can assist with modification; we'll turn your concept become a reality.
Fields of Industry for the 3-Point Shade Sail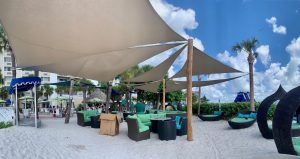 This cutting-edge shadow arrangement has several uses. Use it to cover a cozy seating area at a public business location so staff members may mingle away from the office. Additionally, it can offer a cool, refreshing location in public swimming pools, playgrounds, and parks.
Another excellent location for 3-point shade sails is on school campuses. These shade structures might provide a space where students can congregate during study sessions, lunch, or in between classes. The sails can also be positioned strategically throughout a property in amusement parks.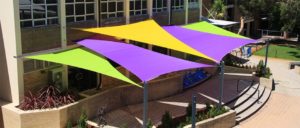 For more than 20 years, Creative Shade Solutions has been a pioneer in fabric structure design and technology. Our objective is to offer thorough resources that result in effective sun protection projects across a range of sectors and industries.
Request a quote from us and find out more about the 3-point shade sail right away.