Belize International Projects   :  Norwegian Cruise Lines 
Rebuild a cover for 1000 foot peer damaged by hurricanes.
Client was asking for waterproof overlapping sails shade sails and not to have it as a 1 pieces solid waterproof sail. So we designed an system with small gaps and smaller triangle pieces inside the gaps to guide the water away from the walkway area.
With this design the client can replace parts and pieces of the structure as needed but still keep the majority and the sails up for the people to use.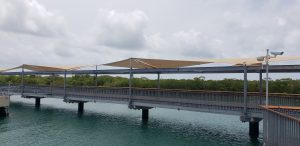 1000- ft peer – 36 rectangle shade sails – 70 triangle shade sails – waterproof