Our climate is the main cause of the degradation of shade sails. The climate in Florida contributes to the damage to shade structures.
Different parts and materials might degrade or suffer damage over time as a result of the wind, sun, salt, and water.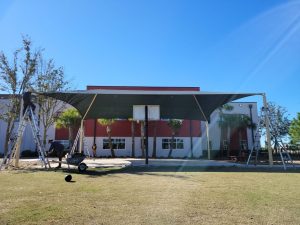 Understanding how long the life of the shade structure will be extended by repair can help you decide when to replace or repair your shade sail or other shade structure. You can usually decide whether to repair or replace a shade structure even if you don't have any expert experience with them. To evaluate the warranties for the materials and the craftsmanship, I would recommend getting quotes for both the repair and the replacement. For example, a repair might not be covered by a warranty, whereas a new shade sail might have a 10-year warranty and be manufactured to withstand gusts of over 90 mph.  Frequently Asked Shade Questions | Creative Shade Solutions
It is crucial to get in touch with a sails shade expert very quickly to get a situational analysis. It is very likely for harm to develop not just to the shade but also to the surrounding property if these repair services are not carried out in a timely manner. Broken cables, textiles, and hardware can whirl in the wind and harm nearby structures including houses, cars, and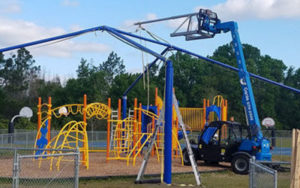 furniture.
We provide services to adjust already-installed shade sails. The use of flimsy fixing points is among the most typical errors people make when installing shade sails. Weak fixing points might cause the shade sail to sag significantly over time and can result in the posts or attachment points becoming loose. With the appropriate hardware, we can guarantee that your corner posts or fixing points are structurally sound.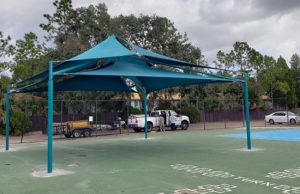 There are several fantastic options with Commercial 95 fabrics that have 10-year guarantees if you feel that replacing your shade sail is the best course of action. We can help you weigh
the benefits and drawbacks. Commercial Sail Fabric and Material Options | Creative Shade Solutions
Our team at Creative Shade Solutions is trained, equipped, and capable of servicing, repairing, and replacing any size from 8'x8′ to 60′ x 60′ sail or structure.
For all of your Sunshade service and repair requirements, contact us.