Awnings or sunshades will almost always be a topic of discussion when looking to improve the comfort and beauty of your outdoor space. It also helps you to be aware of your options and weigh the advantages of each one, as with any binary decision.
Here, we describe the primary distinctions between awnings and sunshades and list the various benefits of each.
Shade sail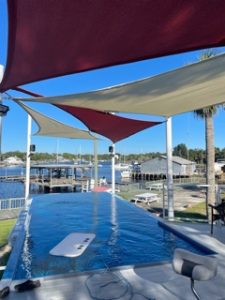 A shade sail is formed of stretchy material that is cinched tightly between several, depending on the type of protection required, shade sails can attach anywhere along a deck rail or even to the ground since they can go from any three places.
Shade sail anchor points must be fixed to posts, the house's side, already-built patio structures, etc. The amount of protection from the sun that these provide depends on where they are placed, both at the time of installation and when the sun moves across the sky. The positioning of the anchor points becomes crucial since shade sails have a more angular orientation.
Sun sail installation differs significantly from awning installation. Although in theory any project might be completed by a do-it-yourselfer, there are several things to keep in mind when building an outdoor cover that is attached to an existing structure. Even though the necessary materials could be accessible at the neighborhood Home Depot, DIYing an outdoor building isn't always a good idea.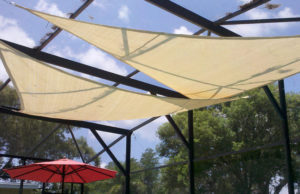 Once installed, shade sails of any design can be removed, however, doing so requires significant strength and special equipment. The anchors themselves can be transferred from their current location to another, but it's not a task you should attempt on your own. Because of the fabric's flexibility, moving a shade sail or temporarily taking it down requires at least two people.
The size of a shade sail might vary. Due to their more permanent nature and ability to cover larger areas, these outdoor coverings are frequently found on expansive verandas or terraces. A shade sail can also be placed away from the house's main construction. Once more, this arrangement begs for a bigger piece of UV-resistant fabric. It's important to keep in mind that shade sails typically need a sizable head space to be effective. Because the fabric needs to be pulled taut, the area needs to be large enough.
Awning
On the other hand, a retractable awning provides cover from a horizontal surface like a wall, a window, or a door opening. In essence, a retractable awning serves as a roof that can be moved around to cover a space as needed. Unlike shade sails, which can be triangular, retractable awnings must be rectangular or square.
Professional installation is crucial for a retractable awning. These outdoor canopies must be built in a stable location in order to adequately cover the porch or deck because they cannot be relocated once they are attached to the house. Another thing to think about is how much room a retractable awning needs to allow for other exterior elements, including window borders and outdoor lights.
Retractable awnings come in manual or electric varieties. Installation of electric awnings requires that they can be wired into the structure.
Although they work well on big patios and decks, retractable awnings are best for tiny spaces. The capacity to incline an awning up to 90 degrees is useful in confined settings. A retractable awning works nicely anywhere with a low ceiling clearance.
Both shade sails and retractable awnings have advantages and disadvantages, but they both give homeowners a way to make their outdoor space more enticing and functional.
If there are any differences between the two shade options, they are as follows:
Shade canopies are frequently portable and removable.
Canopies are frequently standalone structures.
Canopies are stretched out over legs.
Awnings project out from buildings or structures.
Awnings are typically permanent additions to buildings.
Awnings can provide shade for building exteriors.
Finding the usefulness and appearance you desire is the key to deciding between a retractable awning and a shade sail. It is worthwhile to create an outdoor sanctuary that you cherish and to enjoy your outside settings.