Shade structures can benefit schools by providing pupils with a cool, comfortable space to read and learn.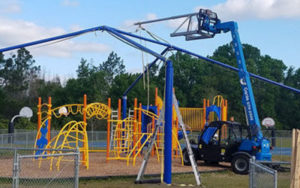 Having sturdy shade structures at school is a terrific approach to allow students to enjoy the outdoors while remaining safe and cool. Apart from sun protection. Shade Sails can be adjusted to fit any location and come in a variety of colors.
Students may require a change of scenery. When they're learning, they don't want to be confined to four walls. Teachers can take their classes outside when they have a Commercial Structure. Any size outdoor classroom can be created. This way, you won't have to be concerned about one teacher talking over another.
Playgrounds, dining areas, courtyards, pathways, drop-off zones, swimming pools, tennis courts, and basketball courts are all great places to create some shade.
Why Should Shade Structures Be Installed?
Protect your children from the sun's damaging rays.
Even in the heat of summer, children enjoy running about outside, and a shade structure will keep them cool, lowering the risk of heat stroke and sunburn. A shade sail will provide a spot for the kids to sit and rest in between games while also allowing them to enjoy the fresh air while remaining protected.
We're all aware of the dangers of UV radiation on children. A well-designed shaded structure will lower kids' UV exposure by around 50%. For children, having a location to take a break from being in direct sunlight while playing on a playground is critical.
Heat damage to educational equipment should be avoided.
Exposure to the sun for long periods of time destroys school equipment, especially if it is constructed of plastic. Installing shades in areas where equipment is exposed to the sun will extend lifespan of playground equipment.
In the event of a severe rainstorm, Shade Structures can help protect the buildings or structures that they are erected over.
Long-lasting and cost-effective
Shade Sails are a low-cost option to provide shade for outdoor play areas and may also be used to increase your learning space.
Any school benefits from a well-designed and well-maintained Shade Structure. It improves the quality of instruction and adds a lovely aesthetic to the entryway, as well as increases the property value of the school.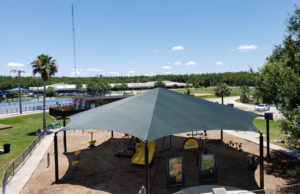 Shade structures keep youngsters secure, comfortable, and cool. Creative Shade Solutions is the industry leader in commercial-grade shade structures and custom sails that are long-lasting and high-quality. We have the expertise and resources to create unique shade structures.
Our products are long-lasting and sturdy, making them a prudent shade structure investment. We've assisted a number of schools in finding shaded area solutions.
For a free quote, contact us and we'll help you locate the best options for any school in the United States. We at Creative Shade Solutions are just as concerned about children's safety as you are.