When it comes to providing shade, we have an excellent team that can provide you with ideas and a range of sail designs to suit every possible need.
We've got a couple of general tips that can help you make the most informed decision possible.
DON'T get a shade that is too small.  When planning your shade, be sure to track the sun for different times of the day.
DON'T forget to angle your shade. Think about how the sunlight is going to come from overhead and the angle it will hit the sail.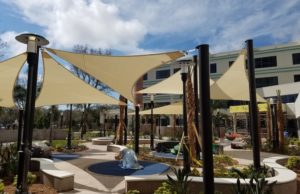 DON'T install your shade too low. Height is all-important to ensure that when you sit down to relax, you get the shade you are hoping for.
DON'T use it near an open flame. Even having been treated with a fire retardant chemical it is suggested that you do not use it at an open fire, fire pits, and chimineas.
If you choose to go with a triangular shade sail but you're still keen on significant protection, consider layering two triangles across one another for a statement look that's functional too.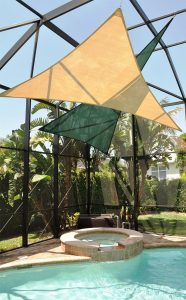 Make sure our selection complements your space. For example, if you've got an existing source of shade – like a veranda – consider attaching sunshade for extended coverage.
Lastly, consider using turnbuckles to provide the additional tensioning ability and keep your sail tight. Sails can stretch and loosen up of time
See article How to tension a sail Shade