Most professionals think of Shade Structures when designing for shade and protection against the sun's harmful U.V. rays. But what about those public spaces which are open for use during the night?
Creative Shade Solutions are perfect for creating a pedestrian- and vehicle-friendly outdoor space which invites the warm glow of reflective and direct lighting in partnership with the imaginative design.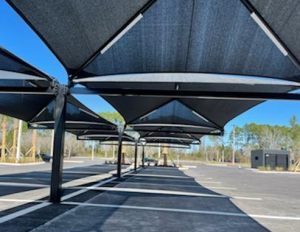 We can provide a creative look for a building entrance as well as shade protection during daytime when strategically placing lighting fixtures to illuminate the Sail structure to create a welcoming entryway at night.
We can design and manufacture a fully integrated structural frame that accommodates electrical housings. The end result is a seamless design that serves a dual purpose: to shade during the day while providing the safety and convenience of warm and inviting lighting at night.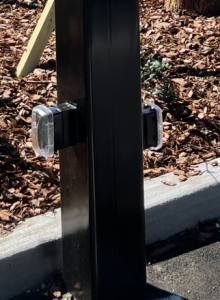 Night lighting used together with our Shade sail structures is useful at the entrance of any building, including schools, recreation centers, stores, hospitality businesses, and theme parks.
Ways to use lighting with shade structures:
Rope Light
The beauty of outdoor rope lighting begins with you. Your ideas on how to use it to make your outdoors more fun will make a big difference in your final result.
Because of its flexibility, rope lights can be easily molded to wrap around just about anything.
Rope lighting comes in many different colors. Using different colors to enhance the look of your theme will make it much more fun.
Café / String Lights
Nothing beats cafe-style string lights for their ability to quickly improve the ambiance in an outdoor space. In the evening, their soft glow overhead can visually transform an ordinary Shade Structure into a party-ready spot for hosting friends.
Spot Light
Use LED spotlights to make Shade Sails stand out. Mount them in the ground, and adjust their aimable heads to wherever light is needed.
Choose an intensity that's right for the object you're highlighting. If you're having trouble imagining how much light is enough, think of the size of what you're lighting. Smaller objects require lower lumen outputs and vice versa for larger objects.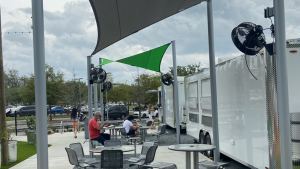 Lighting makes your facility people-friendly for nighttime use by creating a safe and welcoming environment and also illuminates the colorful Shades Sails for a stunning visual appearance after the sun goes down.