Integrated shade structures differ from freestanding shade structures in that they are built directly into the playground equipment, providing obstacle-free shade over the center of your play area. This means that they are intended to shade not only the children who are playing but also the specific equipment to which they are attached. Integrated playground shade structures extend beyond the playground equipment area and have the potential to lower the equipment's touch temperature and even protect it from sun damage for years to come.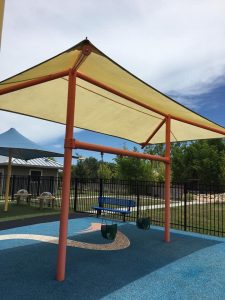 If you have a playground, you can also add a swing set with an integrated shade canopy. The canopy is suspended in the air above the swing structure, casting a long shadow that keeps the playground cool.
These shade structures are built to industrial standards, which means: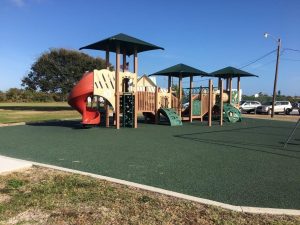 Up to 99 percent UV protection and 92 percent shade (depending on fabric color)
80% water repellence
Cooler equipment — paint and plastic are protected from fading in the sun
Cooler children — shade reduces the risk of sunburn, sunstroke, or heat exhaustion
Long service life — each shade structure has a 10-year limited warranty
Wide selection of colored fabric and colored powder coating for the steel components
Our company sells and installs a wide range of playground shades in various sizes, shapes, and colors. Other companies that sell shades can be found online, but many of them simply resell them from catalogs. Our work crews and sales representatives have actually dug the holes, lifted the posts, poured the concrete, and attached the shade canopies. This hands-on experience equips them with the knowledge to provide you with an informed analysis of your requirements.
Call us at (727) 947-3067 if you have any questions about our playground shades.