Creative Shade Solutions offers nearly limitless shade options for a variety of applications. Tennis courts, fitness parks, playgrounds, dog parks, outdoor classrooms, and other outdoor activities such as zoos, amusement parks, amphitheaters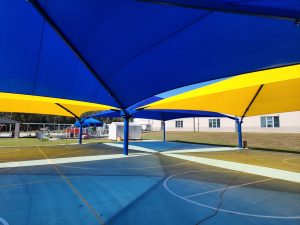 amphitheaters, waterparks, splash pads, outdoor classrooms, public/community spaces like pavilions, corporate locations, hotels, airports, and more have benefited from the addition of commercial shade structures. We've worked with clients from a variety of settings, including schools, parks, zoos, museums, restaurants, and resorts.
Regardless of the size, configuration, or attachment method of your project, our hip roof square or rectangular shade structures can be stacked side-by-side to achieve the desired look and provide ample shade coverage.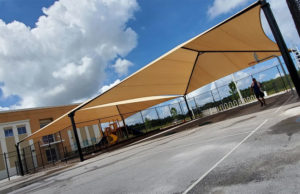 If your project calls for the removal or reinstallation of shade canopies, our systems are designed with an adjustable mechanism that allows you to remove your shade fast and efficiently while also achieving optimum tensioning when reinstalling.
Creative Shade Solutions offers complete turnkey solutions for all of your shade requirements. We have the knowledge, staff, and facilities to design and engineer massive structures ranging in size from 1,000 to 5,000 square feet.
To see how Mega Spans are ideal for high volume car parking facilities click on the link Mega Span Shade Structures – Creative Shade Solutions