There can be too much sunlight. Nobody enjoys a hot car after a long day in the sun or burning playground equipment. Now more than ever, any outdoor gathering space must offer shade or protection from the sun's UV radiation. Add shade to the parks and recreation areas in your neighborhood. Of course, trees are a fantastic way to provide shade for outdoor areas, but they need time to develop and expand. In the interim, we provide a range of shade and shelter options for parks, playgrounds, water parks, splash pads, skate parks, picnic areas, campers, and sporting facilities.
Shade structures come in many well-known sizes and configurations. We can custom-make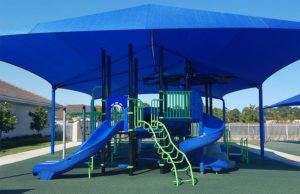 the proper answer for you to suit almost any dimension in nearly any style. Some of the greater famous patterns are proven in our gallery, see the hyperlink Shade Structure Conceptual Design | Creative Shade Solutions
Is your area susceptible to excessive winds, hurricanes, or tropical storms? Or possibly heavy snowfalls? No problem. Our shade structures are engineered to your local weather and function as a quick-release mechanism for handy material elimination — equipped to take care of something Mother Nature throws at you.
Common Shade Styles:  Cantilever, Hip roof, Umbrella Shade Kites, Shade sails, and Multi-lever Sails
Benefits of having a Shade Structure:
Protection from Various Elements: – Shade sails are particularly helpful because they allow people to relax on verandas and at outdoor cafes and restaurants without being directly exposed to the sun.
Environmental advantages: – Using shade sails can cut down on the amount of wood and other resources needed to create homes or building additions. Additionally, less electricity is being used. The nation's energy resources can be preserved in this way.
Permits cool air circulation and offers ventilation: – Shade sails are composed of semi-permeable fabric, which also lowers the temperature in the enclosed areas by at least 10 degrees.
A Wide Range of Options: – Since shade sails are available in a number of colors, you will have many options and may select something that will go with your current fixtures. Commercial Sail Fabric and Material Options | Creative Shade Solutions
Simple Setup: – Shade sails are easily put and uninstalled.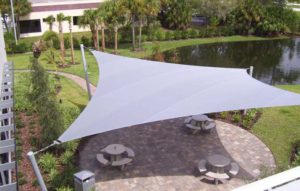 Versatility is also another benefit of shade sails: – They not only come in a number of colors, shapes, and sizes, but they can also be utilized to cover outside areas, whether it be a playground or golf course. Additionally, it implies that while buying shade sails, you may be able to make the greatest aesthetic decision for the outside area.
Enhances the Aesthetic Value of a Property: – In essence, shade sails enhance the artistic value of both residential and commercial structures.
Cost-Effective: – Their low price adds to their appeal as an economical way to spruce up homes and business buildings.