We love parks. They offer a wealth of benefits to communities such as outdoor recreation and physical activity, social gatherings and parties, and improved quality of life for people of all ages and abilities.
Shades can be used in a variety of outdoor environments. While a majority of the shades used today will cover playgrounds, that is only one of the many places they can be utilized. The basic rule of thumb is if you want people to stay in an area for any length of time but it's in direct sunlight, shades are necessary
Shade keeps your playground more comfortable by keeping temperatures lower in the warmer weather and helps ensure that play equipment stays cooler to the touch. With high-quality shade structures, there is less direct sunlight on kids, allowing them to play longer and reducing the risk of sunburns.
With Commercial 95 fabric structure that can block up to 96% of harmful UV rays, and can make your playground up to 20 degrees cooler year-round, allowing for longer play.
Shade Coverage for outdoor venues comes in a variety of styles.  Each one has its own set of advantages.
Our Playground Shade Structure Solutions:
Commercial Retro Umbrella or Single post-Umbrella Shades are generally smaller than other shades, however provide a stereo-typically relaxed aesthetic, these structures take up minimal space in your playground but bring robust coverage.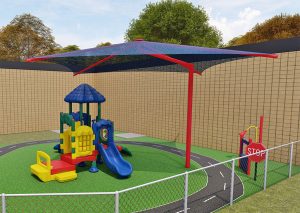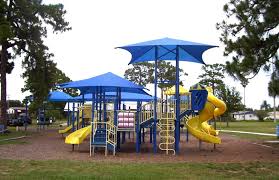 Hip Shade Structure: Hip shade structures are highly flexible and offer wide coverage. They boast four or more posts that allows the largest amount of shade coverage. This makes the Hip Roof Shade the #1 choice for playground shades.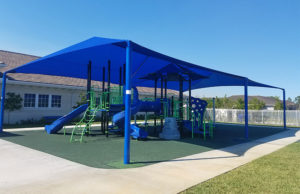 Cantilever Shade Structures:  Cantilever shades ensure there are no posts in your play area. Two sturdy posts are outside the play space while the shade itself can cover a large area.
Cantilever Shades offer shade with an offset support structure providing more space underneath the fabric.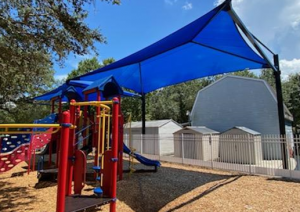 Integrated Shade. Our integrated shade options allow you to utilize the posts in your playground for your shade.  Sail Shades are often regarded as the most beautiful with their unstructured fabric look.  However, they require the most attention to detail for installation and maintenance.  When done correctly, the Sail Shade has an unparalleled look.
Playgrounds are a big investment – and like any other investment, you want to feel confident that you are getting the most value and the best quality for your dollar.  Creative Shade Solutions offer that added assurance – protecting your playground while improving the guest experience.
A Shade Structure for school playgrounds can make your space look more appealing. We have shade designs in a variety of shades, sizes, and colors, so you can choose styles to complement your playground equipment.  These shade Structures can draw even more people to your playground, and keep them coming back time and again since they'll be more comfortable while playing and supervising children.