Commercial 95 Fabric:
The best mix of strength, durability, and maximum sun protection is provided by Commercial 95, ensuring maintenance-free, long-life performance.
It is a porous fabric that wouldn't retain any water and wouldn't trap heat; additionally, by attaching the sail at a small angle, ponding problems are avoided. Commercial 95 is a slightly translucent shade sail. You can see through the fabric in some lighting conditions, which gives the space a less contained feeling.
Choosing commercial 95 fabric will give your property both functional and aesthetic aspects by offering shade during the day and a focal point at night.
Commercial Sail Fabric and Material Options | Creative Shade Solutions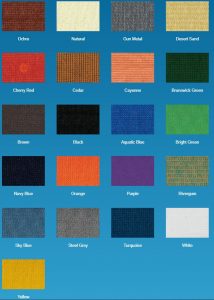 Benefits:
For fray and tear resistance, knitted lock-stitch construction allows increased air circulation and improved cool breeze channeling.
With its ease of manufacturing and low maintenance, UV-stabilized HDPE monofilament and tape yarn offer the ideal combination of strength and UV block.
Strong HDPE won't rot or absorb moisture
Reduces sun exposure for safe and extended periods of time outside with a UV Block range of 91.1%-95.5%.
10-year fabric warranty against UV deterioration
A healthier atmosphere is achieved by eliminating all lead and phthalates.
100% recyclable.
Powder Coating Colors:
To guarantee that all steel posts are the proper size and have solid structural integrity. With corrosion-resistant metals, zinc plating, galvanizing, and powder coating, our products are built to last.
Steel post specifications: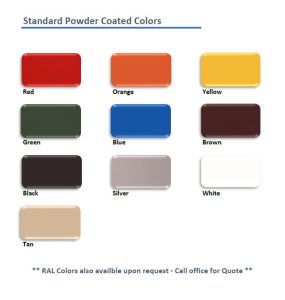 International Building Code 2013 / FBC 2014
Structural Steel Fabrication as per IBC 2009 Section 1704.2.2.
Commercial Sail Fabric and Material Options | Creative Shade Solutions