In order to improve outdoor living spaces and provide you with the greatest tension fabrics that will shield you from the sun's damaging rays with a creative flair, turn to Creative Shade Solutions. As we are here for you from design to installation, we have emerged as the market leader in producing magnificent shade structures utilizing the finest durable and fashionable materials.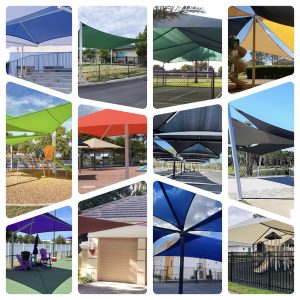 The finest material for shade sails is polyethylene fabric, a lighter-weight architectural fabric made of woven scrim. It preserves the fabric from fading or disintegrating under the sun's powerful rays and prevents mold growth in humid or wet areas. The coating on this cloth is flame-resistant. Certain types of fabric have the capacity to let cool breezes freely pass through the strands of the fabric. This may even reduce the temperature by 15-20 degrees under our shade constructions!
Because we know how important it is to choose top-notch shade sail materials, we provide a variety of high-quality shade sail options.
Here are the fabrics we recommend:
Commercial 95® 340: It combines long-lasting maximum sun protection, strength, durability, and maintenance-free performance, making it ideal for mid-sized projects.
Polytex®: This incredibly strong and flexible option is made utilizing a "Raschel Knit" structure, which knits monofilament and tape together.
SolaMesh®: Tested under the harshest conditions imaginable. Medium-sized shade sails and custom awnings are ideal for  outdoor fabric, which uses polymer technology.
Comtex®: Outstanding fire rating. While maintaining great strength and over 90% UV protection, this fabric shrinks less and is more stable than other shade cloths.
Sunbrella® Contour: Sunbrella's performance is legendary. This well-known fabric's rich, knit-textured texture and great quality make it perfect for shade sails and many other types of shade structures.
Commercial Heavy® 430: Excellent for large-scale projects. Commercial Heavy 430 was created especially for long-span tension shade structures where it is necessary to cover a wide area with few structures.
Architec 400®: Innovative fiber combination for optimal endurance, strength, low stretch, and UV protection of at least 90%.
Commercial FR 300®: Fabric that is maintenance-free, tear- and crack-resistant, as well as UV and flame-resistant.
FR Comshade®: Updated materials, increased flame resistance, and greater environmental safety are all features of this new and improved version.
Commercial DualShade: A unique two-toned appearance, superior biaxial stability, up to 93.2% UVR Block protection, and 12 popular colors are all available to match your project's style.
Give us a call at 888.570.SAIL if you're interested in learning more about any of the shading or waterproof sail alternatives we provide.