The popularity of shade sails is growing quickly due to their many advantages. At a fraction of the time and expense of traditional canopy structures, they can cover enormous regions.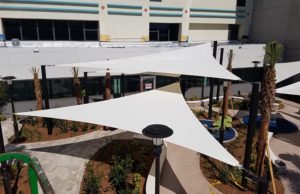 They work particularly well to shade outdoor spaces exposed to more sunlight, like decks, swimming pools, play spaces (such as swing sets or sandboxes), and even atop pergolas. Sunshade sails can help keep an outdoor space 10–20 degrees cooler by obstructing UV rays. Because the material of the shade sail is permeable, hot air can pass through it.
Sunshade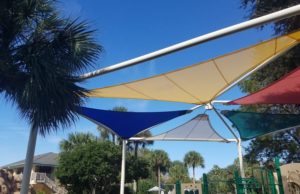 sails are undoubtedly a fantastic substitute for plain-looking shade structures because of how geometric and artistic-looking they appear to be.  Sun shade sails are available in a range of hues and patterns, with rectangles, squares, and triangles being the most popular shapes. Keep in mind that lighter shade sails will block more UV radiation when choosing colors.
You can begin with just one sail in your design, or you can get inventive and add more than one. Consider combining several sunshade shapes for an even more creative touch.
Moreover, sunshade sails are designed to be conveniently removed at any time.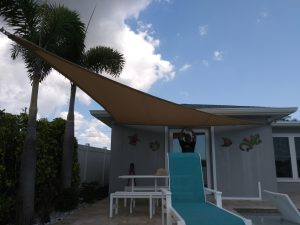 Sunshade sails are an all-purpose shade that you may use for any outdoor space that needs protection from the sun.
Call Us if you have any questions.