Whether you need a whole basketball court covered or a unique design for a shade structure to keep spectators cool, Creative Shade Solutions goes to great lengths to ensure that our products and services meet your specific demands.
Florida is notorious for its scorching temperatures. Outdoor sports may be demanding – and sometimes dangerous – when the weather is hot.
We have a solution that can assist players to stay active and cool while maintaining their energy levels.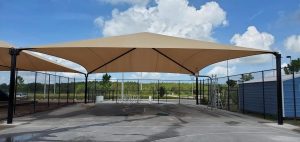 With the installation of commercial shade sails, you can dramatically increase the amount of time you spend outside.
According to studies, installing shade structures lowers surface temperatures significantly.  Shade sails provide remarkable relief during the summer months, allowing you to play for extended lengths of time. With shades covering your outdoor recreation you can stay cool on the basketball court for longer.
Our clients benefit from Creative Shade Solutions' abundance of knowledge and expertise, which includes:
Long-lasting cover and shade materials
Innovative and cost-effective structures
Excellent customer service
Easy and rapid installation
Superior sun and UV protection
Adding shade to your courts has a number of advantages that could benefit your business or venue.  We install attractive, long-lasting shade sail structures that blend in with the architecture of existing structures.  A Commercial Shade Sail will boost the utilization of your facilities by providing shade for outdoor activities, making your courts more comfortable and usable.
All of our Commercial Shade Sail designs are fully customized, with a range of heights, lengths, and coverage areas.