Heat waves are common in Florida. It can be difficult and even dangerous to play sports outside when it's hot outside. For outdoor sports courts including tennis and pickleball courts, Creative Shade Solutions takes pride in developing cutting-edge shade solutions. Our primary goal is to shield our clients from the damaging aspects of the outside world. The addition of shade structures will affect whether individuals spend time outside or stay within, particularly during the summer.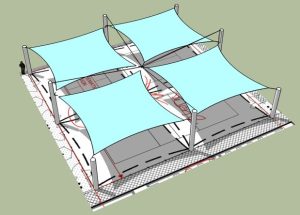 Our most popular choice is a hip roof shade structure since it is both affordable and aesthetically pleasing. To meet all of your shade needs, this design is available in a variety of sizes and forms. Because we provide custom designs, there are countless opportunities to develop the appropriate shade solution for various outdoor spaces.
Pickleball Court Shade Structures will enhance the number of people who utilize your facilities by offering shade for outdoor activities and enabling participants and spectators to spend time outside safely and comfortably. Tennis and pickleball players will swarm to the courts if they have a shaded area since they can play and enjoy their games without being in the sun. Hip Roof Shade Structures safeguard your investment in outdoor enjoyment for many years to come as well as the community where they are located.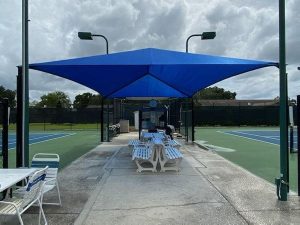 Regardless of whether you want to shade a playground, outdoor seating area, swimming pool, auto shop, or any other sunny location. Our hip roof shades will complement the current surroundings while providing shade protection.