Some dog parks are shaded by neighboring trees, while others have little or no shade.
Overheating is a big concern, but our shade structures shield pets from the sun, making your dog park a cool and pleasant environment for both dogs and their owners. Because air can easily move through a good shade structure, your space will not become too cold or hot. Even the most gorgeous day can be spoiled in an instant by a sudden downpour. A shade structure would be ideal for protecting your furry visitor from the weather.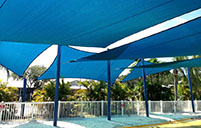 Shade structures allow dogs to play outside for extended periods of time while also providing pet owners with a cool spot to sit.
Shade structures increase the value of your Doggy Daycare. Because this structure comes in a variety of bespoke and conventional designs, you can create whatever look you like for your dog park.
We at Creative Shade Solutions recognize that your pets are members of your family, so we provide a variety of shade sails and shade structures to keep your dog cool and dry.
Some styles that are commonly found in dog parks include:
Shade Sails
Hip roof
Cantilever
Hexagon & Octagon
Shade Kites
T style
Umbrella
Shade Wings
Custom Shade
Commercial 95 fabric is used to construct shade structures, and it has several advantages, including cost, durability, lightweight, and ease of installation.
These shade structures provide milder temperatures while also shielding dogs and people from the sun's harmful UV rays. They're popular at dog parks and other outdoor activity areas because of their practicality and low cost. In addition to our large assortment of standard shade structures, we can provide tailored solutions to meet the specific needs of each dog park.