The biggest direct sunlight damage occurs during regular activity and play. The sun's UV rays can cause severe skin damage, so ensuring that the children at your facility are fully protected with shade is critical. A shade structure is a good one-time investment to preserve children's health because it shields them from direct sunlight while still allowing them to play outside.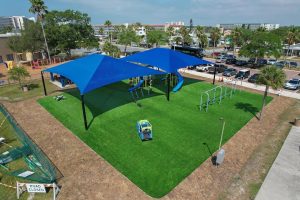 If you buy shade structures for a daycare, you'll get an added bonus: they'll bring in extra business. When parents see shade sails or other shade structures over a play area, they notice that you value their children's safety and comfort. Equipment with shade structures demonstrates that your company is ready to incur more costs if it means children will be safe and comfortable.
Shade Structures will also safeguard the equipment. You've probably seen sun-faded play equipment, and this type of equipment can reflect poorly on a school or daycare facility.
Many outdoor play spaces can benefit from shade structure coverage: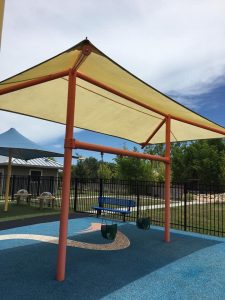 Playground Equipment
Sand Pits
Preschool Structures
Toddler Play Areas
We can provide a choice of alternatives to help separate your childcare business from the competition, whether you're constructing a playground for a school or a daycare.  Shade structures are crucial for the safety of children and the longevity of your playground equipment, as well as ensuring that the children at your facility can play outside in a lovely and comfortable shaded environment.