Different types of shade Structures
Shade structures can protect your company's location from the sun wherever it is located, whether it is at a playground, restaurant, or any outdoor commercial space. Commercial shade structures can offer intriguing and aesthetically beautiful aspects that are also functional to your company's outside area, enhancing its aesthetic appeal. One of the reasons shade structures are so well-liked is that they can be customized to make your company's environment special and come in a wide range of forms, sizes, configurations, and colors.
You may choose the best fit for the project at hand for your company by being aware of the numerous kinds of shade structures and their varied uses for them. Understanding where shadow can be used at your place and its advantages may boost the space's usefulness.
Hip Shade structures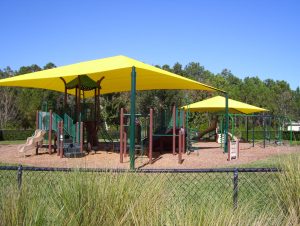 The ability to modify the shade needed for playgrounds, outdoor lounging areas, pool settings, parking lots, and outdoor events locations makes Hip shade structures among the most popular for vast environments.
Include options for two, four, six, and eight columns to support the structures, as well as a clean, straight roofline.
Mega Span hips structures and connected hip structures that are perfect for extending shade coverage to accommodate vast areas. • Provides coverage for picnic areas, bleachers, pool areas, and more.
Cantilever Shade Structure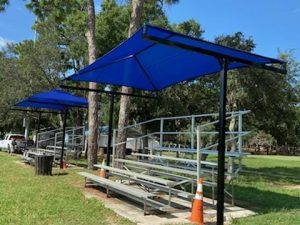 The most versatile type of shade is a cantilever design.  These shades are made for areas where there should be few posts creating a cool, open atmosphere.  With poles in the back of the structure and the canopy supported by suspension braces underneath, a cantilever shade has a low profile.  Pools, covered parking, bleachers, playgrounds, and outdoor seating spaces are places where they work particularly well.
Offer flexible and adjustable product alternatives that are suitable for a variety of applications.
Minimizes column obstruction, providing more open space beneath the shade.
Comes in a range of styles.
To satisfy the needs of your property and building regulations, custom sizes are available.
Integrated Shades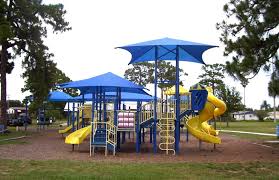 For outdoor play, integrated shade structures are essential because they shield kids and playground equipment from the glaring sun.  Utilizing playground equipment posts as integrated shade allows for a reduction in total space requirements.
Multi-panel Shades
Multi-panel shade structures are a superb choice for the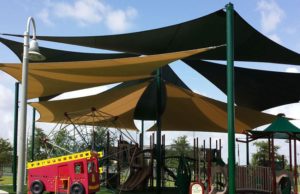 most striking appearance.  They have an appealing aesthetic because they combine a range of textiles and textures to provide a distinctive appearance.
Colors can be mixed and matched to create a distinctive and highly customizable structure.
Multi-panel structures come in a wide range of shapes.
Shade Sails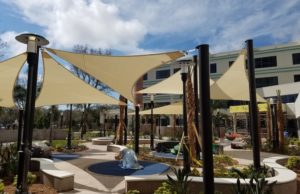 Another beautiful and eye-catching choice for sun and heat protection are shade sails.  The manipulation of the cloth shape into graceful curves results in a visually appealing composition of various Colum heights and connection locations.  Works independently, can be layered in groups, or can be configured as many structures.
Shade sails, like multi-panel shade structures, only offer protection from the sun and heat.  They work well in outdoor settings including playgrounds, splash pads, and pool areas.
Custom Shades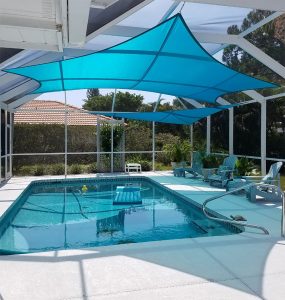 For any project, custom shade sails can produce a distinctive design aesthetic and cutting-edge appearance.  Any bespoke shade designs, size configurations, or mounting techniques that are necessary for your project can be designed and built by our team of professionals.  We can design the perfect special solution to meet the particular needs of your environment.