The shade sail hardware is equally crucial as choosing the proper cloth. To endure the tension and bad weather, the fittings must be placed correctly. It is necessary to take care while choosing and installing your shade sail hardware because each component acts as a vital connector.
For a shade sail installation to be done correctly, high-quality hardware is required. Attachment hardware failures can cause damage to the sail and to property around the shade sail. One of the most frequent causes of shade sail installations going wrong is poor hardware.
Numerous high-quality hardware options are available for Custom Shade Sails. The shade sails and hardware we sell are compatible with all of the attachment and mounting hardware.
Our mounting and attaching hardware for shade sails is designed for severe conditions. We do not offer zinc plating at reduced prices. Search: 22 results found for "hardware" – Creative Shade Solutions (creative-shade-solutions.myshopify.com)
Examples of Hardware:

Turnbuckles, D-shackles – connect the sail to the attachment point, then tightens the sail.

Diamond Pad Eye – stainless steel, normally used with 5/16″ lag screws or bolts. Measures 3 1/2″ X 2 1/4″.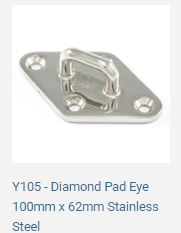 Correct Post
When building a shade sail, it is crucial to utilize the right size posts, footings, and hardware. Do not skimp on the dimensions and details of your columns. When it comes to digging a strong footing, don't settle for close enough. There is nothing worse than a sagging shade sail, which is what will most likely happen if you do.