For a range of outdoor areas, Creative Shade Solutions takes pride in providing top-notch engineered park and playground shade canopies and structures. We specialize in developing cutting-edge shade solutions that provide our customers protection from the harsh outside elements of mother nature. Shade structures for playgrounds or parks safeguard not only the community in which they are placed but also your investment in outdoor enjoyment for years to come. They are an integral part of overall design and usage.
Our shade sails are made from UV-resistant, high-density polyethylene fabric, and they provide style and protection from UV rays in any outdoor space. Commercial 95 fabrics have a UV protection factor (UPF) of at least 90%. Sun shade sails are made to shield your skin and eyes from the sun's damaging rays, much like sunscreen.

The weight, color, and tightness of the weave of the shade material can cause some changes in UV absorption, but these variances are normally less than 5%. But, heavier material, a tighter weave, and darker colors typically block the most UV rays if you want the best sun protection.
In the case of shade sails, everything is possible if you can envision it. Generally, they come in triangle, square, and rectangular shapes. Yet, there are countless possible combinations of color, installation method, and style. Triangle shade sails are the smallest in coverage but are the easiest to fit into tight or constrained places. Several hues can also be layered for greater coverage or just to make a statement.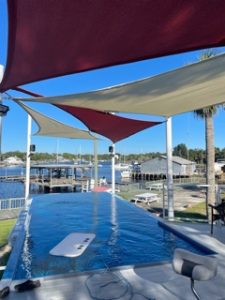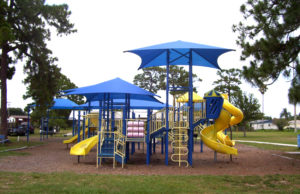 Our design team makes sure that all of our procedures adhere to or surpass CPSC and ASTM requirements. Our knowledgeable and experienced team members, who are prepared to help you throughout the entire process, are responsible for the engineering and installation of our commercial outdoor shade structures. Our helpful staff is here to assist you in choosing the ideal outdoor shade structures for your unique application and surroundings!