Nowadays, it's uncommon to see an outdoor event without at least a few shading structures located both within and outside the event. Shade structures are prevalent for a reason. Businesses are increasingly using shading as a critical component of weather protection throughout the seasons.
Adding shade to an existing playground, for example, can be done after the project is finished, or shade structures can be planned into the project from the beginning. Any project that involves an outdoor location will probably benefit from including a shade structure.
The use of shade structures has a number of advantages. Here are a few that might be important to remember.
The name Shade Sail structure already tells you why you would need it: it provides shade. Although warm weather may be pleasant, it frequently has the problem of having a lot of sunny days. There is no such thing as too much or too little sunlight. With the sun in your eyes, it's difficult to accomplish anything, therefore any vital outside activity requires shade.
Shade Structures reduce UV Ray exposure. Adding shade structures to an outdoor area is most frequently done to lessen exposure to the sun's UV rays, which can be damaging. Even on cloudy or milder days, the sun can harm the skin. Long-term exposure greatly raises your chance of developing skin cancer. Children can play outside with less exposure to dangerous UV rays thanks to the installation of shade structures on school playgrounds.
Shade Structures Offer Defense Against the Elements. A shade structure serves as a barrier against wind, dust, rain, and even snow in addition to providing sun protection. There is less possibility that rain will interrupt an outdoor event (like recess, a sporting event, or even a concert) if there is a shade structure overhead because the various textiles used for shade structures provide water runoff.
Equipment protection is provided by shade structures. Anything beneath shade structures is protected by them. For instance, many auto dealers use shade structures to shield their stock from hail. Protecting the autos is worth the relatively small cost (not to mention reducing their insurance rates as well). The same is true for playgrounds; shade structures shield the equipment from direct sunshine and other weather elements, keeping it in good physical and visual condition.
Guest Comfort Level is Increased by Shade Structures. Often, shade structures are just put in place for the comfort of patrons or visitors. The last thing a patient or visitor who has just had surgery needs or wants is to exit the facility to a sweltering hot car, therefore some hospitals construct shade over their parking lot. The shade can also make individuals feel considerably more comfortable if they are spending a lot of time outside sitting or standing.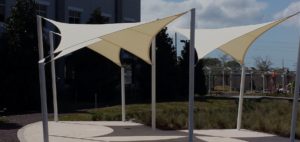 If you have an outdoor space, it's likely that you'll want to make the most of it. You might be able to spend more time in this outdoor space while also making it much more comfortable by adding one or more shading structures. Solutions for shading have advantages for both persons and organizations, thus they should be taken into account for any outdoor activity or event.