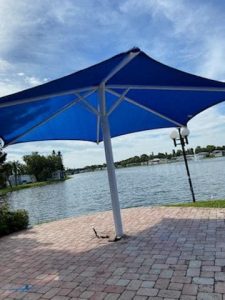 If you're contemplating purchasing shade sails for your residence or place of business, you probably want to know if they can resist high winds. Are you worried that when a storm comes through, you'll discover them destroyed?
A well-installed, high-quality shade sail can withstand high winds. As a tensioned structure explicitly made for the outdoors, it may take on a rather substantial shape and shouldn't move around much in the wind.
Most shade sails are built to endure wind gusts of at least 90 mph for three seconds. Depending on the location of the building, Creative Shade Solutions, for example, engineers its structures to withstand winds of up to 150 mph. With shade cloth placed, 90 mph for 3 seconds, without the use of shade cloth 175 mph. The force of tension needed to install a shade sail depends on its size and how exposed it will be to wind; they are intended to be built as fully tensioned structures. Larger sails and windy conditions necessitate greater force to keep them from flapping.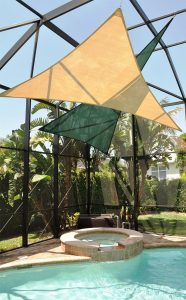 Our shade sails are made to withstand typical weather conditions for years without problems thanks to the sturdy fabric and optimum tension. However, when there is a named storm, we do strongly advise taking take them down.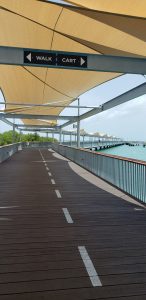 Although our shade sails are durable, we can't guarantee that the anchor points used by each customer will be as well. For instance, if you put a shade sail over a vulnerable area of your house with small eye bolts or posts that are excessively inadequate, those components may break long before the cloth. To maintain the longevity of your shade sail system, use strong anchor points at all times.
Always pick shade sails of a high caliber and install them correctly. Hire a professional to make sure the installation is done correctly if you don't think you can handle it yourself.