Cantilever Shade Structure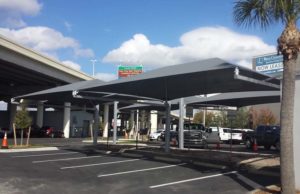 A cantilever shade is the most universal and can fit anywhere.  These shades are designed for spaces that need to keep costs to a minimum and create a cool, open feel.  A cantilever shade offers a low profile with posts in the back of the structure and the canopy supported by suspension braces underneath.  They are particularly well-suited for pools, covered parking, bleachers, playgrounds, and outdoor seating areas.
Minimizes column obstruction, leaving more open space beneath the shade.
Provide versatile and customizable product options that are suited for a variety of applications.
Available in a variety of designs.
Custom sizes are available to meet the requirements of your property and building code.
Hip Shade structures
Hip shade structures are among the most popular for large environments because hip shades can be joined together to customize the shade needed for playground, outdoor seating areas, pool surroundings, parking lots, and outdoor events areas.
Feature a clean, straight roofline with two, four, six, and eights column options to support the structures.
Provides coverage for picnic areas, bleachers, pool areas, and more.
Super Span hips structures and joined hip structures are great for extending shades coverage to accommodate large areas.
Multi-panel Shades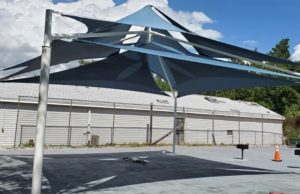 For the most eye-catching design, multi-panel shade structures are a great option.  They are aesthetically pleasing because they use a variety of different fabrics and materials to create a unique look.
Mix and match colors to create a unique and highly customizable structure.
Multi-panel structures are available in a wide variety of designs
Shade Sails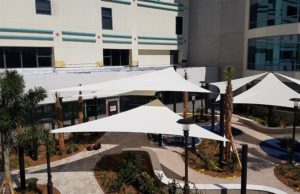 Shade sails are another stunning and visually appealing option for sun and heat protection.  Multiple Colum heights and attachment points create an interesting visual aesthetic as the fabric shape is manipulated into elegant curves.  Works as a standalone structure can be layered together in groups, or configured as multiple structures.
Similar to multi-panel shade structures, shade sails provide shelter from sun and heat only.  They are best suited for open-air venues such as pool areas, splash pads, and play areas.
Integrated Shades
Integrated shade structures are critical for outdoor play helping to protect children and playground equipment from the intense sun.  Integrated shade leverages posts from the playground equipment and reduces the overall space requirements.
Custom Shades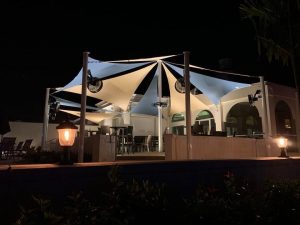 Custom shades shapes can create a unique design esthetic and innovative look to any project.  Our team of experts can design and build any custom shade shapes, size configuration, or attachment method that meets your project requirements.  We can create the ideal custom solution to fit the unique requirements of your environment.